How to Play
How to Play Mini Lotto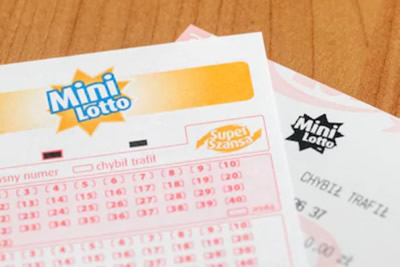 Mini Lotto is a little Polish lottery game with big prizes that can climb above €100,000, and there's no cap on the jackpots! Mini Lotto proves that good things definitely come in small packages. The jackpot is typically around €94,400 (400,000 złoty) but it can grow higher. Mini Lotto has also got the best lottery odds of any Polish lottery game, while tickets are very affordable - it costs just PLN 1.50 (about €0.35 or US $0.40) to play a single line.
Mini Lotto features daily draws for more chances to win. Draws are held seven nights a week in Warsaw at 9:40 pm CET. There is a draw break when you cannot purchase tickets from 9:30 pm to 9:50 pm - so to play that evening's draw, you'll need to buy your tickets before 9:30 pm.
There is no minimum jackpot, and there's also no cap on how high the jackpot can grow. The top prize is determined by the number of tickets sold for that day's draw, so jackpots can grow to eye-catching levels quickly. The largest-ever win to date was 478 712,40 złoty (€112,854) on December 31, 2019. Since draws are held every day, there are no rollovers. The jackpot is must-win every day. If there's no jackpot winner, the top prize rolls down instead and is split between the second and third prize levels.
While you won't be able to buy your own tropical island with Mini Lotto, it's still a great little lottery because of its solid prizes, cheap tickets, and favorable odds.
Play Mini Lotto Straight Bets
Playing is easy; you can fill in a playslip or play online. Here's what to do ...
Choose 5 numbers from 1 through 42. You can pick your own numbers, or play at random and the lottery computer will generate your numbers.
Mini Lotto is one of the most affordable lottery games anywhere - it costs just PLN 1.50 (about €0.35 or US $0.40) to play one line, although players may wager up to PLN 400,000.
You can also play Super Szansa for the opportunity to win PLN 2 million! Super Szansa is a seven-digit number from 0000000 to 9999999 and costs PLN 2. Activate the number by checking the box on the play slip form or asking the retailer for Super Szansa.
Unlike Lotto, Mini Lotto does not have a Plus option.
You can play up to 10 draws in a row, or choose a subscription if you play online. A subscription is a convenient way to play every draw.
If using a playslip, be sure to keep the ticket you receive from the terminal. It's the only proof of the bets and numbers you played, so hang on to it and keep it in a safe place in case you win a prize!
Love your lucky numbers? It's easy to play them again. Just take an existing ticket (not older than 90 days) to a Lotto point and tell the retailer you want to play again. Play again gives you a new coupon with all the same details: same game, numbers, type of bets, predicted numbers, and number of draws.
Here's how to win a Mini Lotto prize:
Match 5 numbers: Win the jackpot
Match 4 numbers: Win the second prize
Match 3 numbers: Win the third prize
According to the regulations, 50% of the total amount of revenue from ticket sales is allocated to winnings. The amount allocated to win in each prize tier is shown below. If the jackpot isn't won (that is, there is no Tier I win), then the jackpot amount rolls down and the Tier II and III prize levels receive a larger amount.
Polish Mini Lotto Percentage Winnings at Each Prize Tier

| If: | Win Rate Tier I | Win Rate Tier II | Win Rate Tier III |
| --- | --- | --- | --- |
| All tiers are won | 50% | 20% | 30% |
| No jackpot win | - | 40% | 60% |
Play the Mini Lotto System
To increase your chances of winning, you can play the "system" and choose more than five numbers. Every fifth Mini Lotto win is from a system bet! With every extra number selected, the chances of winning increase. In the system, you pick 6-12 numbers from the set of 1-42 available numbers. You are betting on all possible five-number combinations that can be made from the numbers you choose. For example, if you play the 8 system, you play 8 out of 42 numbers, and these 8 numbers can be combined to make 56 straight (five-number) bets. The system also includes a bonus - in this case, when you hit the "five", you also win 15 "four" and 30 "three".
The exact amount you win depends on the number of tickets purchased for the draw, and whether the jackpot is won or not - if it's not won, it rolls down and the second- and third-level prizes increase.
How to Claim a Mini Lotto Prize
All Mini Lotto prizes are paid as a lump sum. If you've won below PLN 2,280 from a ticket printed by the terminal, you can collect your prize at any Lotto sales point. Present your ticket (coupon) to claim - this is the only proof of participation so make sure to keep it safe. If you played online, the ticket information is saved, and the win will be automatically credited to your player account. If you've won PLN 2,280 or more, you'll need to visit one of the 17 Totalizator Sportowy branches with your ID card to claim. The winnings will be paid to your bank account. These are the details of the head office in Warsaw:
Address: 03-728 Warsaw
ul. Targowa 25
Tel: 22 518 24 09
Hours: The branch is open Monday to Friday from 9:00 am to 3:00 pm.
Poland has a 10% tax on any lottery winnings over 2,280 złoty (about €537 or US $600). That means you win the jackpot, you'll almsot certainly have to pay the tax, but if you win the second or third tier prize they may well be tax-free in Poland. However, if you're an international player, check your country's tax laws because you may be required to pay local taxes in addition to Polish taxes.